Description and Reviews
Read An Excerpt
About the Author
Table of Contents
Find Similar Items




BROWSE BY SUBJECT
Reference
Wine Varieties
Food & Wine
Cookbooks
Multimedia
Buying Guides
Champagne
Collecting
Wine & Winemaking


BUY BOOKS
New To Our Site?
Order Form
WCT Shop Home
Shipping Information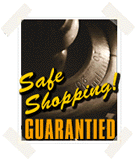 The Wine Avenger
Willie Gluckstern




Retail Price: $13.00
WCT Price: $10.40
You Save: $2.60 (20%)

Availability: Ships in 2 to 3 days

Format: Paperback, 144pp.
ISBN: 0684822571
Publisher: Fireside
Pub. Date: June 1998

Dimensions (in inches): 0.50 x 7.28 x 5.20
Item No: 0684822571

Average Customer Review:





Order This Book!







Secure Order Guarantee



Description
From The Publisher:
It stands to reason that if our foods are now lighter and more dynamic, our wines should be also.

A longtime champion of the victimized wine consumer, Willie Gluckstern debunks the myths and misinformation surrounding the (allegedly) complex subject of wine. His straightforward advice includes:
The wines that go BEST with food—and why.
A cure for label worship: "There are just as many lousy $60 bottles as $3.99 bottles."
How to avoid getting ripped off in stores and restaurants.
How to choose a great wineshop: "Do they know where Italy is?"
Dreary housekeeping tips, such as storage, decanting, saving opened wine, and "that sulfite thing."
Plus, the straight poop on oak, "the MSG of wine," a few well-chosen words for greedy restaurants and retailers ("Those bastards!"), and an unprecedented exposé of mass-market Champagne, including how to find the good stuff by cracking the secret label code.
Irreverent, informative, and controversial, The Wine Avenger is indispensable for beginners as well as enthusiasts.




Reviews

"[The Wine Avenger] is a beginner's wine book that actually seems to have been written by a human being with real opinions about what's good and what's bad, rather than by some lifestyle-pimping drone. And, Gluckstern's also great to read, peppering his prose with cuss words and outraged rhetorical questions that you don't generally find in the mannered realm of wine commentary. All in all, one of the most useful and readable beginner wine books that's appeared in a while."


—Andrey Slivka, New York Press.

"...[A] destroyer of myths, a protector of the consumer and a teller of truths that no one else will say."


—Harvey Steiman - The Wine Spectator

"Armed with The Wine Avenger, most will feel comfortable and confident when ordering wine."


—Margaret Howell - CNN

"Gluckstern's best selling Wine Avenger has the snobs hyperventilating and down-to-earth wine lovers cheering."


—Al Bassano - Bloomberg Multi-Media

"A book that divides the viticultural world handily into angels and demons."


—Robin Raisfeld - New York Magazine





Table of Contents

Preface
Introduction

TASTE: It's Not What You Think
WINE AND FOOD: The Basics
WHERE DO GREAT WINES COME FROM?
QUALITY: What to Look For
OAK: The MSG of Wine

THE GRAPES
WHITES
Chardonnay
Sauvignon Blanc
Chenin Blanc
Riesling
Und...Other Germanic Grapes
REDS
Merlot
Cabernet Sauvignon
Sangiovese
Nebbiolo
Syrah
Zinfandel
Pinot Noir
Barbera
Gamay
Cabernet Franc

HOUSEKEEPING
Storage: Do's and Don'ts
The Bad Bottle
Decanting: When and How
Is Older Wine Better?
Serving Temperature
The Sulfite Thing
Saving Opened Wine
Cooking with Wine
RETAIL: Buyer Beware
WINE IN RESTAURANTS: Dining's Downside
AN OPEN LETTER To RESTAURANT CRITICS
BRING YOUR OWN
WINE RATINGS: What's the Real Score?
CHAMPAGNE: WIth Respect
WINES FOR FOOD
The Strategy
A Few Helpful Do's and Don'ts
Appetizers
Salads and Vegetables
Seafood
Pizza
Pasta
Roasted Meats
Game
Picnics
ETHNIC CUISINES
ITALY
Northern
Central
Sicily and the South
Germany, Austria, and the Scandinavian Countries
FRANCE
Northern and Central
Provence and the Southwest
Alsace
Spicy Foods of the Western Hemisphere
Tex-Mex/Southwestern
Mexican
Caribbean
Cajun/Creole
Indian and Asian
Thai and Vietnamese
Indian
Chinese
Japanese
Cheese
Desserts
SO...
Index






Find Items On Similar Subjects


Wine & Winemaking